Simple ways to contact American Express
Call us
Telephone numbers, addresses, and working hours are shown below for American Express offices throughout the Middle East and North Africa.
Select the product you have below to help solve your query, or call the number on the back of your Card.
We're available 24/7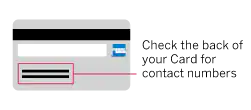 Email us
Feel free to contact us at any time. Please allow 2 working days to help answer your concerns.
Customer Services
Platinum Services
platinum@americanexpress.com.bh
Corporate Card Unit
Bahrain
AMEX (Middle East) B.S.C. (c)
American Express, AlMoayyed Tower, Ground Floor, Building 2504, Road 2832, Seef
Sun - Thu 08:00AM - 04:00PM