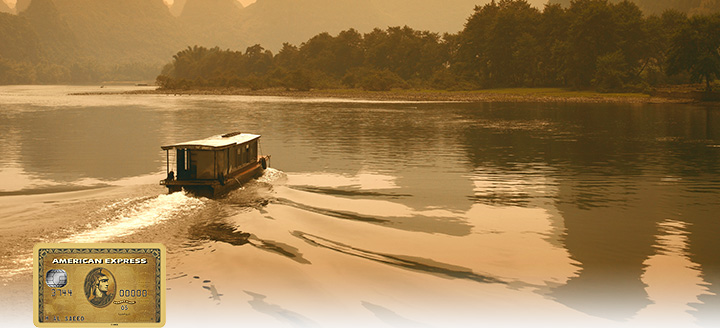 The American Express® Gold Card
A life of privileges is yours to enjoy
The American Express® Gold Card is the privilege of a chosen few. Welcomed at thousands of establishments and offering a host of benefits including No Pre-set Spending Limit*, complimentary Airport lounge access across the Middle East and retail & travel insurance, the gold standard is well within your reach.
Highlights
Access to the Membership Rewards® programme
Access to Airport lounges across the Globe with Priority PassTM
Exclusive offers brought to you by American Express® SelectsSM
Comprehensive Travel Insurance. Your policy number is 'AMEX19'
Enjoy Real Rewards
The Membership Rewards programme is our way of thanking you for using the The American Express® Gold Card. Every time you make any purchase with your Card, from groceries at the supermarket or tickets for that much-needed holiday, you will always earn 1 Membership Rewards points on every USD 1 spent. Moreover, your points never expire. So, you can accumulate them and redeem them for a variety of lifestyle and travel rewards from any of our 12 airline partners or hotel partners.
To view exhaustive list of rewards and to place your order, please visit our website at www.membershiprewards.com.bh
For example
SPEND
USD 2,200
Per Month
Earn 26,400 Membership Rewards Points per annum.
---
Redeem for a one-way ticket to London*
SPEND
USD 4,500
Per Month
Earn 54,000 Membership Rewards Points per annum.
---
Redeem for a return trip ticket to London*
SPEND
USD 9,000
Per Month
Earn 108,000 Membership Rewards Points per annum.
---
Redeem for a return trip ticket to New York*
SPEND
USD 10,000
Per Month
Earn 120,000 Membership Rewards Points per annum.
---
Redeem for a return trip ticket to Los Angeles*
Examples shown are illustrations based on redeeming Membership Rewards points towards Avios, British Airways for flights departing from Dubai. The number of Avios points needed are off-peak day prices as of 31st January 2017 and are subject to change. Please visit partner websites for more details. *Terms, taxes, fees and carrier charges apply.
---
Here are just a few of the ways you can let Membership Rewards indulge you
Complimentary Upgrades & Flights
Complimentary Hotel Stay
Indulgent gift cards & shopping vouchers
Travel
The American Express® Gold Card brings you enhanced travel experience by offering lounge access throughout the world. What's more, this privilege is also extended to 1 of your Supplementary Cardmember. This means you will enjoy the following Priority PassTM benefits:
Benefits
8 complimentary visits per annum to Priority PassTM lounges
Access to more than 1,200 lounges across 130 countries
Easy access to lounges with Priority PassTM Mobile App
Upon exceeding the number of visits or accompanying guests, a charge of US$ 32 per person will apply
Enroll your Card and eligible Supplementary Cardmember via the Amex mobile application or
log
in to the online services.
Protection
Your Card is your key to peace of mind when travelling or shopping. That's because we protect you and your Supplementary Cardmembers with comprehensive worldwide insurance policies.
Travel Accident Insurance of up to US$ 350,000
Travel Inconvenience Insurance of up to US$ 1,000
Retail Protection Insurance of up to US$ 1,500
What's more, you can submit and track your claims status online. Click here to raise your claim. Your policy number is 'AMEX19'.
Terms & Conditions apply.
Online Access
Online Services
Register now for convenient online access to your Gold Card account. All you need to do is visit ourwebsite. This is also where you'll be the first to find out about new Gold Card benefits, as they are introduced. With Online Services, you can also:
Activate your Card
Update your contact details
Set alert preferences for SMS and Email
Request a Supplementary Card
Refer a friend to take advantage of the American Express Card and earn bonus Membership Rewards points
---
American Express iPhone & Android App
As an American Express Cardmember, you can enjoy the ease and convenience of accessing your accounts with a swipe of a finger with the new and improved American Express Middle East App.
Simply download the app to your Android™ or iOS device and manage your account details, stay on top of your benefits, and get updates on new offers anytime, anywhere, at your convenience.
Further Key Benefits
From retail protection, to knowing you can receive emergency help 24/7 virtually anywhere in the world, with The American Express® Gold Card, you can always rest assured.
Retail Protection Insurance of up to US$ 1,500 per occurrence and US$ 40,000 per year against theft and accidental damage for up to 90 days
Online Fraud Protection Guarantee
Thousands of local, regional and global offers brought to you by American Express SelectsSM
24/7 Customer Service
Online Account Access, Services and e-Statement Alerts
---
Eligibility Criteria
Before registering your interest, make sure you can say 'Yes' to the following:
I am aged 21 or over
I am a resident of Jordan
I have an annual income of at least US$ 48,000 (employed), US$ 100,000 (self-employed) - or equal local currency
I have no history of bad debt
And if self-employed, I have been working for more than five years
Terms and Conditions