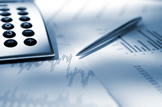 The balance on the Card account is payable in full when the statement is received and cannot be rolled over from one billing to the next. As a result, no interest is payable on the Card - which is good news for your bottom-line.
What's more, each transaction you make on the American Express Small Business Card is approved individually. Approval is based on a number of factors, including your resources, spending and payment patterns. So if you use the Card regularly and always pay your account on time, you can spend as much as you have shown us you can afford to repay.
This gives you a degree of financial flexibility that can be invaluable to small businesses.