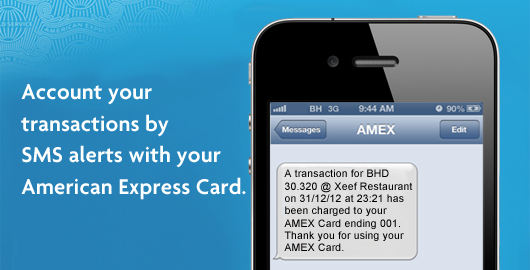 You will receive SMS notifications for:
Credit Transactions - notifies you when payments have been credited to your Card.
Debit Transactions - notifies you when purchases have been debited to your Card.
This service helps you manage and track transactions on all your American Express Cards. If you do not recognize any transaction please contact the Customer Services number mentioned on the back of your Card.

For frequently asked questions click here
*This service currently exists on all American Express Credit Cards. However starting from 1st January 2013 The American Express® Card, The American Express® Gold Card and The Platinum® Card Cardmembers will also be auto enrolled to benefit from the SMS Alert service. Should you choose to opt-out from this service, please login to online services or contact our Customer Services.