Learn about Fraud Prevention
At American Express we take payment security very seriously. Thankfully incidences of fraud are quite rare – however, from time to time, these things do happen. With a little vigilance fraud can often be avoided, so here are a few tips to help you prevent fraudulent transactions and avoid disputes and chargebacks.
Learn About American Express® Card Security Features
Always Ensure the following when accepting the Card
Always Ensure
The Card is whole, intact and valid
The Card signature strip is intact and has not been tampered with
The Card relates to the holder in terms of name, age, gender and nationality
The Card number and the signature on the Card matches those on the signed slip (For non-Chip & Pin transactions)
To contact the authorisation centre that is designated for your country/market if suspicious
Never Accept the following
Never Accept
A Card that is damaged, altered or with corners snipped
A Card with a dull finish or blurred patchy printing
An authorisation approval code from a third party
To return the Card until the transaction is authorised
To split a purchase into more than one transaction
To give cash against Card
To process a transaction without approval code, if the transaction amount is higher than your establishment's floor limit
To locate key Features on an American Express Card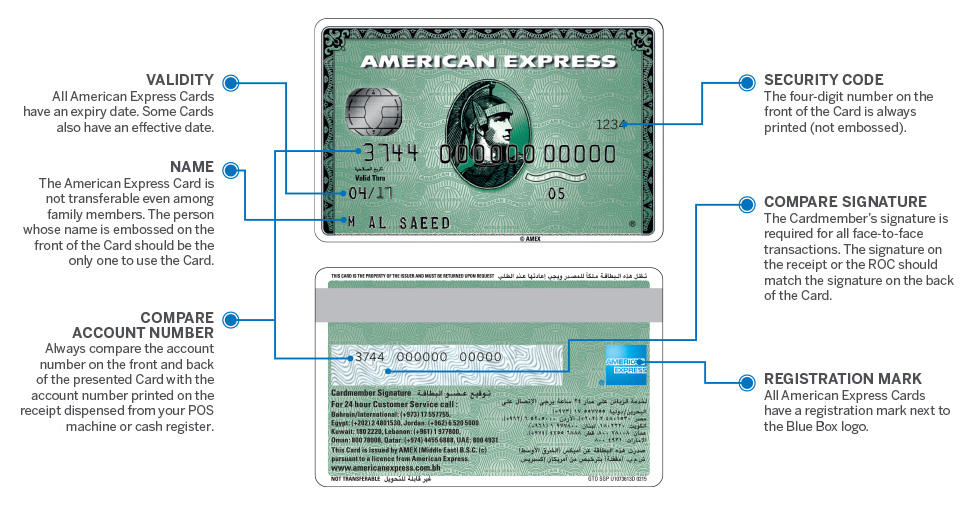 How to detect a possible imposter (fraudster) by being aware of the following
Watch out for easy sale, random purchase, bulk buying without showing interest on product knowledge and return policy
Nervous behaviour
Attempts to distract or rush you during the transaction
Multiple purchases over a short period of time for big amounts using several cards
If Suspicious? What to do
Ask the Cardmember to present some personal identification (IDs which are acceptable are; Passport, Drivers Licence and or any government issued IDs)
Those details must be matching the information of the Card presented
When in doubt? Call your Authorisation Centre and ask for a "Code 10" discretely
How do I educate staff about Fraud Prevention
Make sure you and your staff are familiar with our security procedures from day one. If you offer e-commerce to your customers, please ensure your website registration and checkout areas are secure and encrypted. Only dispatch goods to the address at which the Cardmember's Card is registered and always obtain signed proof of delivery.