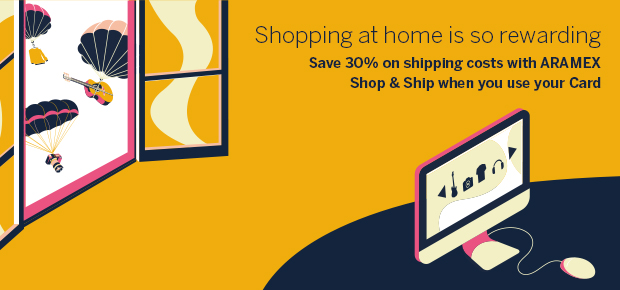 Who doesn't love shopping online? Use your American Express Card to shop online for the things you love and ship them right to your doorstep with Shop & Ship. When you use your Card to pay for shipping, you get 30% off on shipping fees for every* transaction.
Not an ARAMEX Shop & Ship member? We have you covered. ARAMEX Shop & Ship lets you purchase from any online store in the world and then delivers your items straight to your home. Sign up today using your American Express Card and enjoy a complimentary lifetime membership worth US$45.
To enjoy 30% off your shipping fees, simply follow these steps:
STEP 1. Visit www.shopandship.com and log in to your account.
STEP 2. Go to your 'Profile' and select 'Edit my Payment Options'. Click on 'Credit Cards' and add your American Express Card details. Then save your American Express Card as the 'Default Payment Option'.
STEP 3. Go to 'Shipping Payment Options', select 'Auto Pay', agree to the 'Auto Pay Payment Agreement' and click on 'Save'
STEP 4. Start shopping!
Sign-up now by visiting www.shopandship.com, enter the promo code and get a lifetime membership fee waiver worth US$ 45
Promo Code SNS100AMEX
For more information, please call our 24/7 Customer Services on the number on the back of your Card.
The 30% discount off your shipping fees on Shop & Ship will be available up to a value of US$ 300 of your shipping fees based on the product type.
Your American Express Card must be set on Autopay on your Aramex Shop & Ship account in order to avail this offer.
If you make a purchase that incurs discount on shipping fees higher than the applicable discount amount based on your product type, then your statement will be debited with the excess amount at end of offer period.
The Aramex Shop & Ship lifetime membership fee waiver is a limited time offer that can be availed by using the promo code when signing up for a new Shop & Ship account.
This offer is valid on all eligible American Express Cards issued by AMEX (Middle East) B.S.C.
This offer is valid on shipping charges between 6th November 2017 – 31st January 2018.
This offer may be extended or amended or withdrawn without prior notice at the sole discretion of American Express Middle East.